38- Ladies Golf Report 10.3.19
Good Evening Ladies

I would like to welcome two new lady members who have recently joined DG from West Berkshire, along with their husbands. Shelagh Lancaster and Deborah Weddell, we will all look forward to meeting you on the course or in the club house, please do not be shy, we are a friendly bunch. Do join in with the roll ups on Monday and Wednesday mornings, the regular ladies will make you more than welcome, or alternatively message any one of us and we can arrange a friendly match with you.

Sadly Fay and Gill were knocked out in the first round of the Daily Mail competition at Sandford Springs on Friday. Maybe next year ladies.

The HSL team won all their matches on Thursday at the Valley, whilst we have the same amount of points as the Valley and Marlborough we have a massive lead with the number of holes up, leading by 15. Well done to Gill and Anne-Marie for a great score winning by nine holes on Thursday.

The Berkshire County Ladies Golf Association AGM will be held at Goring and Streatley next Wednesday at 11.30am, please let me know if you would like to join myself, Fay and Katherine.

Our AGM is fast approaching too. This will be on Wednesday the 20th March in the Kennet Room, from 7.30pm. I look forward to seeing you there.

Presentation Night is on the 11th May, the award ceremony will follow a dinner at 9.00pm.

Also next Wednesday at the club from 12.30pm is a lunch and a talk on the Nabobs of Berkshire, contact Reception on 01635 58100 if you would like to pre order your meal and book your place for this interesting talk.

Calander for Inter Cub Matches 2019
Matches For 2019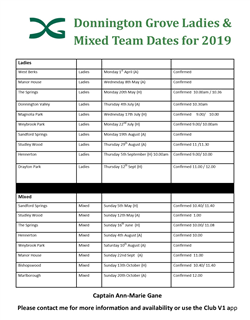 To Join the squad use the club V1 app and go to the teams section.
Or use the Members Hub link on top right of web site "Members Hub"
As we enter the 25th Anniversary year of Donnington Grove Country Club I am so proud to be our Lady Captain.

Our Ladies section contains a strong friendly band of ladies who love playing golf not just at our Championship Course, but also at the many reciprocal courses we have the privilege of playing, including two recent additions, The Oxfordshire and Boundary Lakes. We have an extremely busy year ahead with a very full golfing and social diary which includes added anniversary competitions.

We organise and run a full programme of golf matches, roll ups, opens and leagues as well as a number of short break golfing trips and our ladies social activities that are just as popular. These include a wide variety of events such as organised walks, trips, themed suppers and charity events that our regular gatherings are well attended. We can also add to this list by enjoying a visit to the recently opened Avalon Beauty and treatment rooms.
If you are new to golf or are looking for a new club, you will find us friendly and welcoming. You will be supported and helped by our members, pro shop team and committee.

Our charity this year is the Rainbow Rooms. It is a well know local charity and part of the Newbury Cancer Care initiative. Full details can be found at:

http://www.newburycancercare.org.uk/rainbow-rooms.html

Happy Golfing to you all.

Kim Richardson
Ladies Captain 2018