Tom Fleming PGA and his team welcome you to DG Pro Shop
Raise your game with the latest golf kit from some of the sport's biggest brands including TaylorMade, Callaway and Titleist. For the ultimate advantage on the fairways, why not treat yourself to state-of-the-art, made-to-measure custom fitted golf clubs with one of our PGA Professionals.

As well as the latest hardware, we stock a full range of men's and women's wear. Browse collections from Footjoy, Sunice and Glenmuir and JRB. Logo clothing available for you to take home a souvenir of you game.

Hire equipment including Buggies, Trolleys and clubs are always available on booking.


You'll find the Golf Shop at the back of the hotel, open daily from 7.30am - 6:00pm



Phone - 01635 551975
Email - proshop@donnington-grove.com
Welcome to another edition of our newsletter.
The R&A and USGA's Distance Insight Report has been on everyone's lips of late but talk has quickly turned to the rumours of a Premier Golf League which has the aim of revolutionising the game by 2022. With so much chatter about it, we decided to dig a little deeper to find out what it could mean. As usual, you will also find our regular features, so why not grab a coffee and have a look through.
Enjoy the read.


Get a grip
Our 2020 promotional campaign gets underway this week, we have teamed up with the #1 grip supplier Golf Pride to offer you a FREE re-grip on your 7-iron.
Take a look at your grips, you may feel they are ok but if you compare them to a new grip you will be surprised at the difference. Even though they may not look worn, grips get worn and a bit shiny over time, the consequence is that you start gripping the club harder which leads to poor shots and higher scores.
Pop in-store with your 7-iron next time you are down at the club!
Breakaway league
In a bid to combat a packed global schedule, the World Golf Group outlined a proposal that would bring together 48 of the best players in the world in an 18-event season with a total prize pool of £183 million.
Already Tiger Woods and Phil Mickelson have been approached about joining the Premier Golf League as it is being called although it is important to note that the league is nothing to do with either the PGA or European Tour's with both making it clear that players would have to choose between one or the other. Could we be about to see a divide at the top of the game?


Custom fitting experience
Come and have a fitting or ask to take a trial club out. Nick, Chris and Dan are available for a full one-hour fitting on the TrackMan for £45.
They will give you the best possible advice, and help to find the right club for you.
Please book in the pro shop with your preferred professional (bookings only).
To book your slot, please either call the pro shop on 01635551975 or via clicking the link below.
A recent golf survey highlighted some very interesting statistics regarding golfers' habits and their equipment, two of which you can see in the image below.
These stats might not mean a lot to you at face value, but the general recommendation is that you change your grips once a year, especially if you play regular golf.

The truth is, grips lose their efficiency over time and when they do we end up gripping the club too tightly, which restricts our ability to swing the club freely. Just something for you to think about...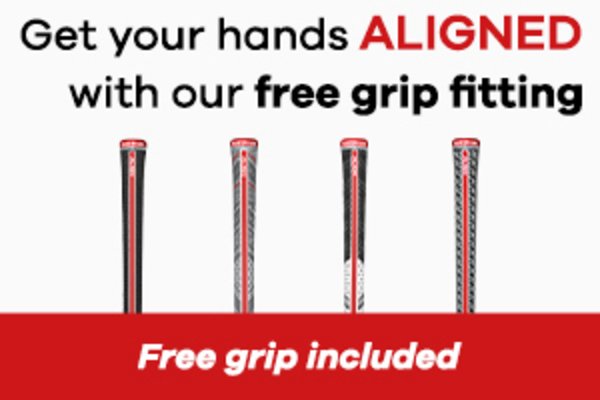 It's not only important that your grips are regularly replaced, but you need to ensure you get the correct sized grips. Our FREE grip fitting promotion has just started in-store and we recommend everyone giving it a try. Call us on 01635551975 to take advantage.
A taste for the finer things
Some people want the finer things in life: champagne, first-class travel, luxury cars. Our next addition may sound a little strange, but Titleist's second-generation AVX balls are here and we're big fans.
Engineered for greater ball speeds, longer distance and increased short-game spin, the upgraded and extremely soft AVX packs a lot into a golf ball and fits nicely into Titleist's elite ranks alongside the Pro V1 and Pro V1x.
All three Titleist balls are available at Donnington Grove Country Club, so pop by the pro shop to find out which is best suited to your game.
Titleist T-Series irons
From the precise and workable T100 irons to the forgiving and distance-focused T300 irons, there's a model in Titleist's iron range to suit all abilities.

They're also releasing a T400 model for 2020, which is perfect for golfers with slower swing speeds who are looking to launch the ball higher into the air.
If you want to give any of these a try or want to speak to us about which model would be best suited to your game, call us on 01635551975.