Champagne Roll up is coming on the 19th April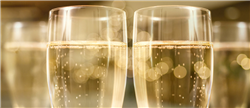 Finally!!! The inaugural 'champagne roll up' for the 2019 season starts again on Friday 19th April. This is a nine hole roll up stableford competition. The course is booked from 4pm each Friday for those taking part.

Due to the success of previous year's the roll up will again alternate between the front and back nine. On the 19th April we will be using the front nine. The cost of entry is £3 and covers the cost of the champagne winning prizes. You also have the opportunity to purchase discounted meal after the golf at the very reasonably price of £5.

The presentation of prizes takes place around 8pm and each Friday we also run a members cash draw, to which the owners generously contribute £25 each week. This year the starting pot will be £25.00. If you are not in the bar at the time of the draw the money rolls over to the following week.

Tonight we will also be announcing the winner of the annual subscription fee draw for those paid in full by the 1st April and you could win
Results from the team day 10 March 2019
Results from Team Day
A great turn out today with 40 players playing in a little breeze!
Some great scores from the pairs Bogey comp for which you needed to beat the course to be in the prizes.
With some great scores the winners are as follows:
1st Craig Coleman & Luke Morrison 4 Up
2nd John Headland & Davide Aagaard 2 Up
3rd Rob Carvill & Simon Walker 2 Up
4th Phil McTiffin & Rob Panting 2 Up
All on Count Back
Then 4 teams on level
Nearest the pin in to a gale-force wind on the 7th was Rob Panting
Many thanks to Tom as ever for helping to organise this event as well as Andy Storer for overseeing the scores. Tony Coleman for presenting the prizes donated by Sandtrend, Sandy & Myself.
But a very special round of applause to Kim for making not one cake but 3 for the raffle and raising £120 for the Captains charity.


Join the DG Teams from the Club V1 App
Did you know you can join the various DG teams from the club V1 app available on your mobile phone both Android & Apple as well as the desk top version just search for Club V1 install the app and us your "How did I do" logins to connect with the DG database

From here you can select teams and join any team that suits you.
You can see all the fixtures and make yourself available for selection by the team managers.

For help to login in or any issues please see the DG pro shop staff.

You can see the full 2019 Diary here including golf & social events
Team Day Sunday 10th March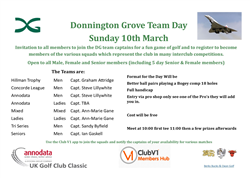 Their are 2 places left please contact the pro shop to play open to all 5 & 7 day members who would like to find out more about DG inter club matches

Meet in the bar for 10:30 1st tee will be at 11:00
Please contact the pro shop on 01635 551975

The format is pairs betterball bogey - full handicap

Free to Enter
Members Memorial 2019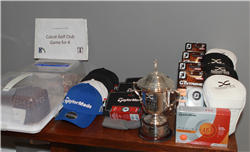 This weekend saw the Members Memorial take place with almost a full field. Scoring was good and the top three places were won with some incredible scores.

The Winners were as follows

1st : Nathan Redmond/ Nick Monger/ Jack Caunt/ Stephen Bartholomew on 98 Points
2nd: Andy Storer/ Sean Sargeant/ Steve Lillywhite/ Alison Lillywhite on 96 Points
3rd: Luke Batley/ Kevin Beasley/ Ross Hunter/ Gary Rinaldi on 90 points

Kim also managed to raise over £170 for the Captains Charity with her cake raffle. I think it was the Maltesers and Curly Wurly cake that did it :)

Congratulations to all who took part and thank you.