EuroPro 2021
PGA EuroPro 2021
Conor O'Neil wins The Jessie May World Snooker Championship title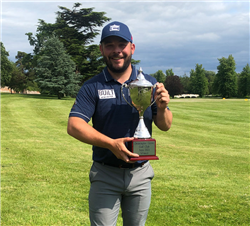 Conor O'Neil has won The Jessie May World Snooker Golf Championship at Donnington Grove after a final day round of 68. He came from three shots back to beat his compatriot Jeff Wright and George Woolgar by one shot.

Leaderboard

O'Neil (Pollok / Mearns Castle) battled throughout on his final round putting together a fine four under day which included an eagle on nine and a birdie on 16 which proved to be enough to win and seal a maiden PGA EuroPro Tour title.

The Scotsman's past year is tough to comprehend for anyone after his father and uncle took their own lives, O'Neil dedicated his victory to him: "I've been trying to win here for ages. I've had the worst time of my life in the last year. I don't have any words, I'm just so happy I wish my dad could be here to see this he deserves this more than me, to be honest for what he did for me."

Victory for O'Neil also sees him move top of the Race to Alcanada order of merit after two events: "I just had a complete 360 I just went for everything I am just so happy it paid off."

On perspective: "There's more to life than golf, what my family has been through to give them something to smile about you know because we're not smiling right now. I'm more happy for them more than me to be honest."

Overnight leader, Rodi Vlasveld crumbled early on and he never fully recovered eventually having to settle for a share of ninth after a final round of 76 (-4). Vlasveld of The Dutch had set a course record 62 yesterday but he quickly showed how fortunes can change so easily on the course.

Monday Qualifier Jeff Wright had a stellar week running O'Neil all the way to 18 where a bogey meant he couldn't force a playoff. Wright of Forres Golf Club signed for level par coming just short of what would've been a fairytale week.

He shared second in the end with veteran EuroPro Tour player George Woolgar. Woolgar had the round of the day as he pushed on for a 67 (-5) moving into the top five on the Race to Alcanada standings.

Hindhead Golf Club's Cameron Phillips had another strong showing with a 68 final round to take a share of fourth with 2021 Q School winner Sam Broadhurst.

The top ten was rounded out by Luke Joy (Remedy Oak / Yas Links Abu Dhabi), James Allan (Chelmsford Golf Club), John Parry (Harrogate Golf Club), Jamie Rutherford (Knebworth Golf Club), Chris Lloyd (Hanbury Manor), Will Enefer (Retail Furniture Ltd), Dermot McElroy (Ballymena Golf Club) and Rod Vlasveld.

As well as the £12,500 first place, Conor O'Neil also receives a Motocaddy M1 Electric Trolley and PRO 3000 laser rangefinder thanks to our official electric trolley and laser rangefinder partner Motocaddy and a P2 Grip and Trident Align from our official grip partner P2 Grips.

The Tour moves west to Cumberwell Park next week from June 16 to June 18 where the qualifier will be hosted on Tuesday 15, June.

Highlights for Donnington Grove will be broadcast on Sky Sports Golf a week Tuesday (June 22) and available worldwide through our various broadcasters including Matchroom.Live
PGA EuroPro Winner 2019
Lundberg wins The World Snooker Jessie May Championship (Courtesy of the EuroPro website)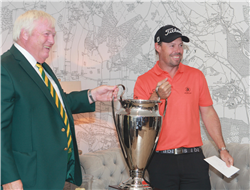 Lundberg wins The World Snooker Jessie May Championship



Mikael Lundberg has won The World Snooker Jessie May Championship in difficult conditions on the final day at Donnington Grove.

Trailing Ben Hall by one shot, Lundberg went two-under in his final round to win by one shot over Alfie Plant of Sundridge Park Golf Club and James Adams from Druids Heath Golf Club.

The Lumine Golf Club golfer hit rounds of 68, 71, and 70 to win his first title on the PGA EuroPro Tour since winning the Lumine Lakes Open on the Nordic Golf League in 2017.

Lundberg on victory: "Overall it was really nice. Today it was unbelievably tough at times. I am really happy that I could pull it off. Some of the guys out there they're really good players. I'm glad they could let the old man win."

"The first day I put really well. On the second day not so good. I missed the 5/6 footer on the third hole so I was a little bit worried. But then I started putting really quite nicely so I'm just really happy today."

"Hopefully I can get some kind of ranking back and then the end of the year play tour school and hopefully get my European Tour card back."

An earlier start on two tees was the decision to deal with the forecast rainfall and it proved to be the correct call. Conditions proved to be difficult with heavy downpours throughout but the courses coped well with the greens only marginally slowing down across the board.

It was a solid last round for both Adams and Plant who shot two and one under respectively to tie for second.

Overnight leader, Ben Hall (TSR Recruitment) was four over at one point but birdied the following three holes to go one over where he remained to finish fourth.

Dongwon Kim (Team R&E), Michael Saunders (Dartford Golf Club), and Dan Brown (Romanby Golf Club/G4L) all tied for fifth on four under on a day where only five players went under par in their final rounds.


Highlights of The World Snooker Jessie May Championship will air on Sky Sports on 18, June 2019 at 20:00

A massive thank you from the PGA EuroPro tour, the players from this week, Tom Fleming for organising / planning this week and especially to all the DG Volunteers that have helped this week, but not forgetting Dave and his team for presenting "the best course we have played this year" & "awesome greens" as well as all the hotel staff we should all be very proud of what we have all achieved.




Link to EuroPro Video
Flicker links 1
Flicker links 2
PGA EuroPro News
PGA EuroPro News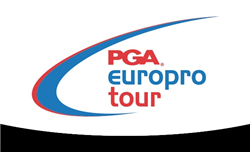 Euro-Pro is here at last
Euro-Pro is coming to DG this week
Its here at last and seems to have taken ages to arrive but the Euro-Pro tour is at DG this week starting on Monday.
You may have seen the Tee Boxes advertising going in today

The Schedule is
Monday : Practise
Tuesday : Pro-Am
Wednesday: First Round (156 Players)
Thursday: Second Round (156 Players)
Friday: Third Round (50 Players + ties)

Come and support two DG pro's Matt Briggs & Max Nicholls

This is covered by Sky Sports and will be shown on :

World Snooker Championship – Donnington Grove 18/6/19 20:00:00 Sky Sports Golf HD
World Snooker Championship – Donnington Grove 18/6/19 0:00:00 Sky Sports Golf HD
World Snooker Championship – Donnington Grove 19/6/19 7:00:00 Sky Sports Golf HD
World Snooker Championship – Donnington Grove 19/6/19 10:00:00 Sky Sports Golf HD


If you have some time this week to help at the club please contact Tom in the Pro-Shop on 01635 551975

Link to Euro-Pro event at DG https://europro.bluegolf.com/bluegolf/europro19/event/europro1911/contest/1/leaderboard.htm