Ladies 3rd round draw
Unfortunately Reading were the victors in a very close game with most matches going to the 18th.

Better luck next year but with thanks to all the ladies that represented DG.


The draw has been done for the 3rd round
Donnington Grove GC v Reading Golf Club at home



(Gill, Julie, Jan, Sarah and A-M) are playing Reading at Home on Wednesday 12th June @ 10.20am. Good Luck to you all !!
Annodata Information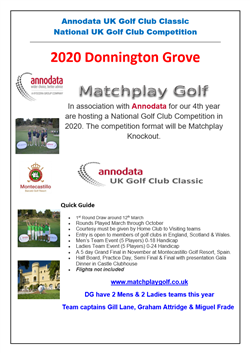 To Join the squad use the club V1 app and go to the teams section.

Or use the Members Hub link on top right of web
site "Members Hub"
Ladies 2nd round match at Calcot
The Ladies played Calcot on the 4th May
The following team of Ladies went to Calcot

Kim Richardson
Fay Unsworth
Gill Lane
Anne-Marie Gane
Sarah Jolly

Finishing up winners with a great win 3:2
Well played everyone and on to the next round

Draw & Match information
Ladies section
2nd Round Draw DG Ladies are away at Calcot Park to be played by the 12th May

Ladies had a Bye in the first round

Draw link here
http://www.matchplaygolf.co.uk/ladies-draw-2019
Draw & Match information
Men's Section
First round for men is Farnham Park Golf Club away Date on the 7th April, First tee is 10:00
Report from Today at Farnham Park
The match was very closely contended with the following
players representing DG
Nick Monger, Davide Aagaard, Robert Carvill, James Stephens & Darren Boyce

With myself as reserve & team Captain

What a great team effort today, a couple of times I thought
we had it but unfortunately not to be.

To confirm the match result was 2.5 - 2.5 so the playoff
started and again I thought we had it on the 2nd & 3rd holes but Farnham
came back again until the 4th when we unfortunately lost the sudden death playoff.

Well played everyone and a cruel way to lose.

Steve
Draw Link here http://www.matchplaygolf.co.uk/mens-draw